Thupten Rinpoche is the senior reincarnated tulku (consciously reincarnated lama) from Gaden Jangtse Monastery (in south India).
Venerable Thupten Rinpoche was born in 1958, became a monk at age eleven, and took his full ordination (gelong) vows in 1977. He received the traditional extensive Tibetan Buddhist monastic training and was blessed with personalized instruction from many highly realized lamas.
Thupten Rinpoche especially recommends Nyung Na retreats as a potent way for dharma students to quickly advance their spiritual development. This practice associated with the deity Chenrezig, the Buddha of Compassion, involves chanting, prayer, prostrations and fasting. Rinpoche himself has done more than 250 lifetime Nyung Nas so far (each Nyung Na is a two-day segment). In 2006 Rinpoche completed 108 Nyung Nas in a row, lasting seven months.
Thupten Rinpoche has a Dharma Center in Los Angeles, California USA called Chokhor Gepel Ling.
Thupten Rinpoche successfully coordinated the building of the new main prayer hall at Gaden Jangtse Monastery (started in 1998 and finished in 2001).
More about Gaden Jangtse Monastery:
Ganden Jangtse Monastery was founded by Lama Tsong Khapa in 1409. After Tibet lost her independence in 1959 Gaden Monastery was re-built in exile in south India. The early settlers in the newly formed Tibetan colony in Mundgod toiled in the 1960's and '70's to preserve their community, culture and religious traditions.
By the 1990's the original Gaden Jangtse prayer hall that had been built by the early refugees had become seriously overcrowded. Many refugee monks continued to come from Tibet, Nepal and Bhutan to study at this great monastery. A new prayer hall became an urgent necessity.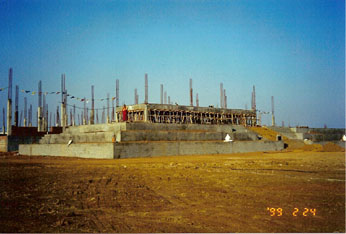 The foundations of the new Gaden Jangtse prayer hall
and the first walls going up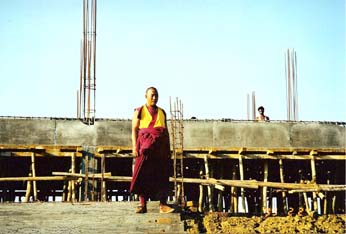 Thupten Rinpoche inspecting the work
After receiving permission from His Holiness, the Dalai Lama, Thupten Rinpoche and Geshe Lobsang Tsephel (who later became Khen Rinpoche, abbot of Gaden Jangtse) took the initiative to raise the funds to build a larger Gaden Jangtse prayer hall. Thupten Rinpoche personally took on the job of overseeing the whole implementation of the building work, from architectural designs, materials and construction, through to all the statues and holy objects that were placed inside the building after completion.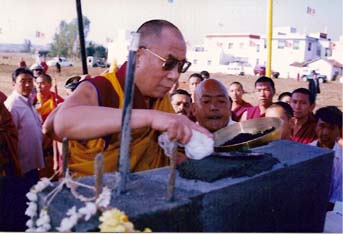 His Holiness, the Dalai Lama laying the first mortar, 1998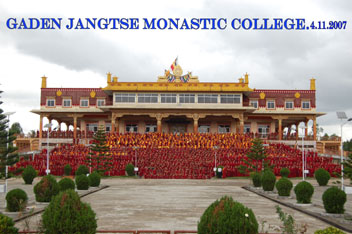 The finished new main prayer hall at Gaden Jangtse Monastery in south India
Actual construction of the new Gaden Jangtse prayer hall was begun in 1998 and finished in 2001, with a consecration by His Holiness, the Dalai Lama.
Thupten Rinpoche states that what he learned from the building of the new Ganden Jangtse prayer hall gave him great practical insights which he used in the construction of Thusung Dhargye Ling temple in north-east India.