Stages of the construction process
In March 2007 over 11 acres of land were purchased on a hill overlooking the town of Dirang, India.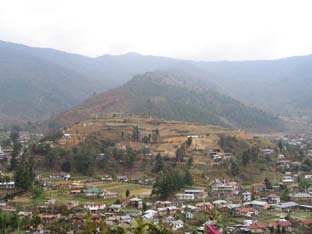 The site was graded and access road put in. Site plans and drawings were completed. site plan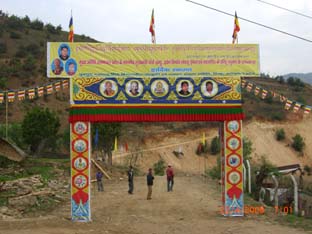 In April 2008 the abbots and 29 monks from Namgyal and Gaden Jangtse monasteries converged on the site of Thupsung Dhargye Ling to perform extensive rituals and prayers to bless and consecrate the ground. Included in the rituals were a Kalachakra self-initiation, fire pujas and a White Tara long-life initiation conferred by Khen Rinpoche Lobsang Tsephel (then abbot of Gaden Jangtse Monastery).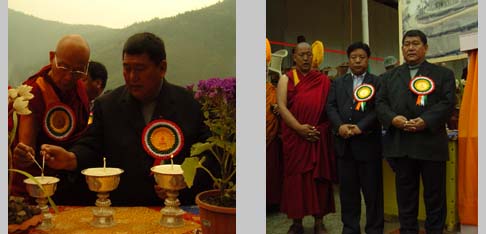 During the opening consecration ceremonies the foundation stone was laid for the first building. In attendance were Arunachal Pradesh Chief Minister Dorjee Khandu and Minister Tsering Gyurme from Dirang.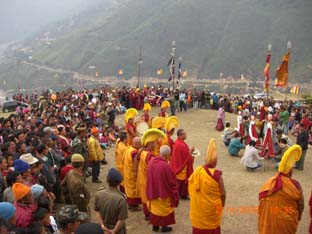 September 2008-- (below) Phase 1 construction of the main temple building is well underway and the first floor of the temple is now completed. Work is going forward on the second floor. The goal is for the second floor to be completed by November 2009, when His Holiness, the Dalai Lama is scheduled to visit the construction site.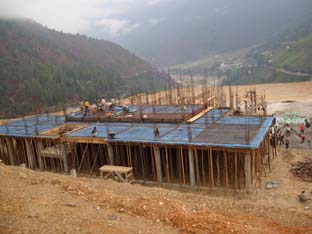 New photos from November 2009: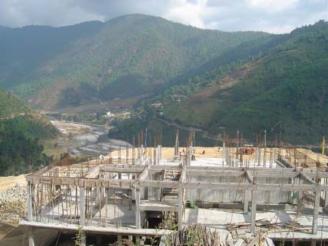 Back view of the temple construction with view of the river valley below.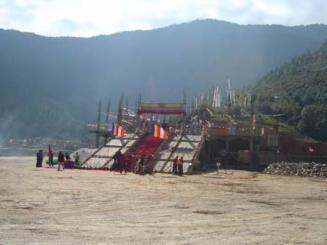 (above) Decorations for His Holiness, the Dalai Lama's visit. Please see
dedicated web page for photos of the visit.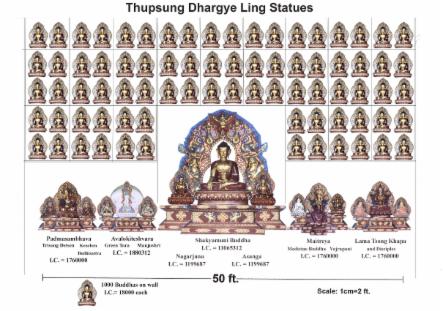 Highest quality altar room statues were ordered in 2008 of Shakyamuni Buddha and other Tibetan Buddhist deities.



(above) Progress as of December 2010. The structure is completed-- three floors in the front and four floors in the back.

(below) Spring 2011. Windows, doors and extensive design details are being installed.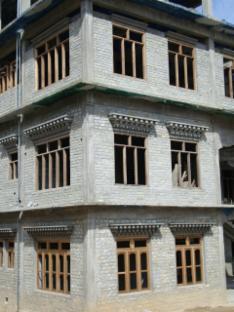 (below) Cement details on outer wall and pillar inside the prayer hall before painting.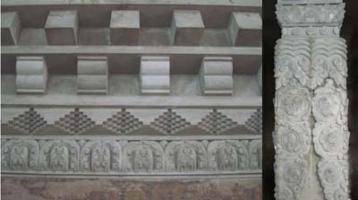 Strong support for this project comes from the State government of Arunachal Pradesh and the West Kameng District where Dirang is located.
Below is the progress as of September 2014.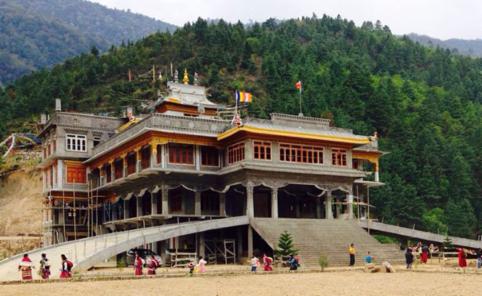 (below) Temple back view, painting in progress as of December 2014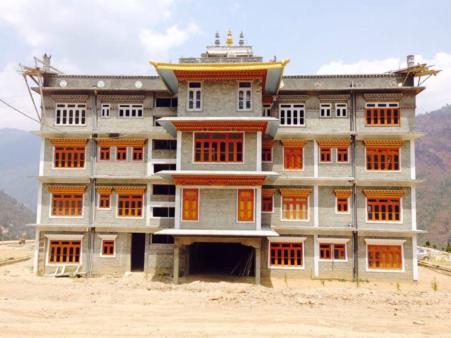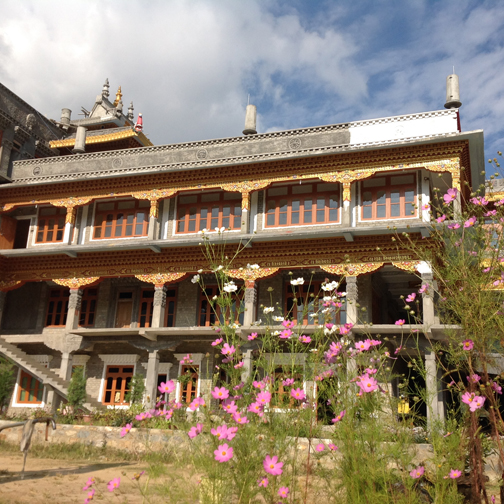 (above) Temple side view, February 2015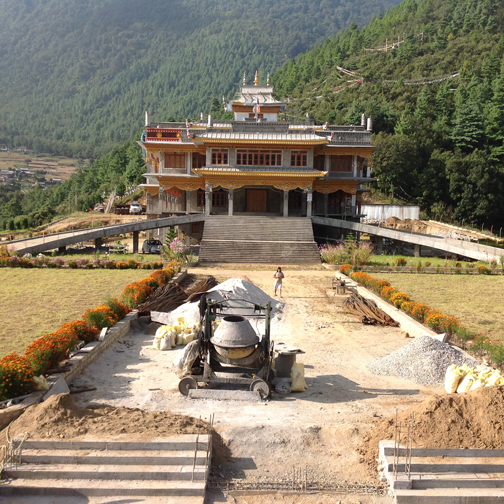 Front pedestrian walkway, ready to lay cement. February 2015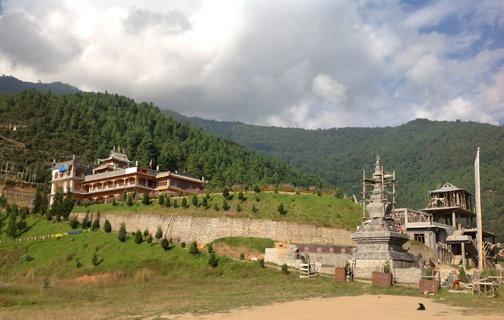 Gate buildings at base of hill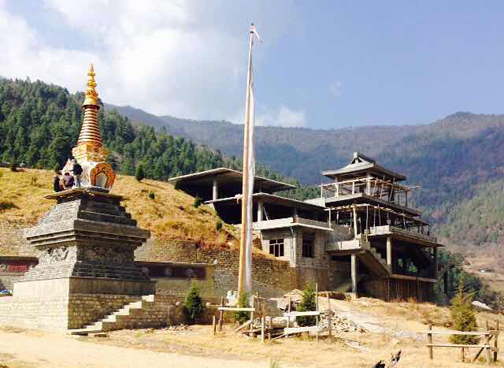 Gate buildings and stupa under construction

Details of painting in progress inside main hall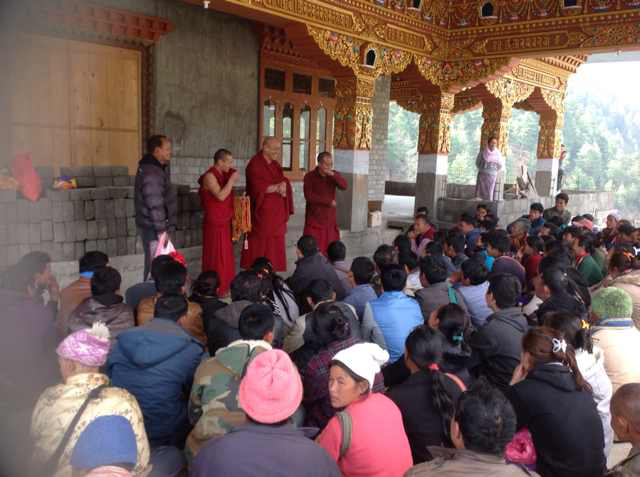 During construction the temple is already in use. Above, Thupten Rinpoche and monks with local people
outside
the building.

Thupten Rinpoche presides over event inside main hall on Losar (Tibetan lunar new year)

Panorama view of inside the main hall during prayer event

Thupten Rinpoche in front of altar in main hall. The throne for His Holiness, the Dalai Lama is visible behind Rinpoche.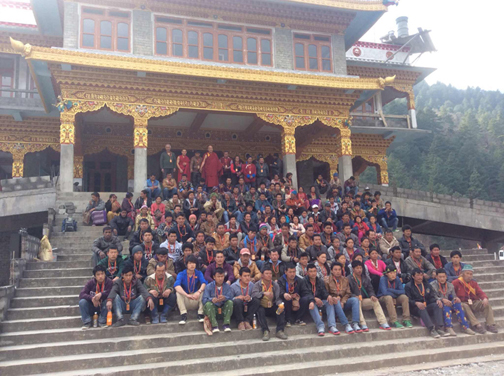 Local volunteers who have helped with construction, landscaping and maintenance.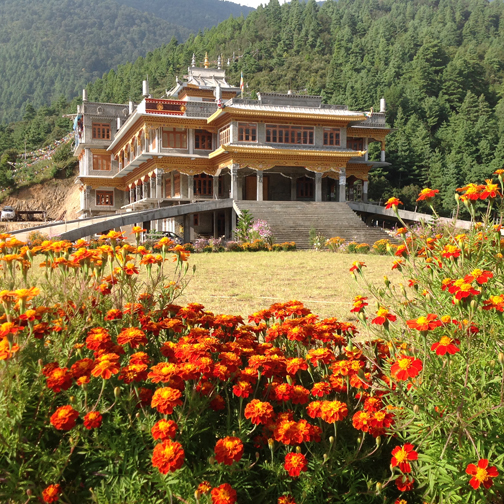 This page contains construction updates through 2016. For images of the completed project please see Temple Images page.
Thupsung Dhargye LIng